FOR THE TASTE. 
After an appreciated launch of our premium burger, we felt that the market was also missing a really good plant-based chicken burger that doesn't compromise on taste or texture.
Now we present Havredal's Plant-based Chicken Burger. Our unique production process gives it a rich flavour, juicy plant meat with a chicken-like texture and a crispy frying surface. Based on yellow peas and fava beans, the burger is produced in Sweden, 100% plant-based, gluten-free, soy-free and high in protein (15g/100g).
A tasty choice for the climate-conscious who want to eat chicken, without eating chicken.
FOR THE CHEF.
Havredal's Plant-based Chicken Burgers come unprepared to give you, the chef, more freedom to flavour the breading mix. At Havredals, we like this burger best fried or grilled, but it can be deep-fried just as well. Our chicken burger is also great smashed for a larger cooking surface and crispier edges.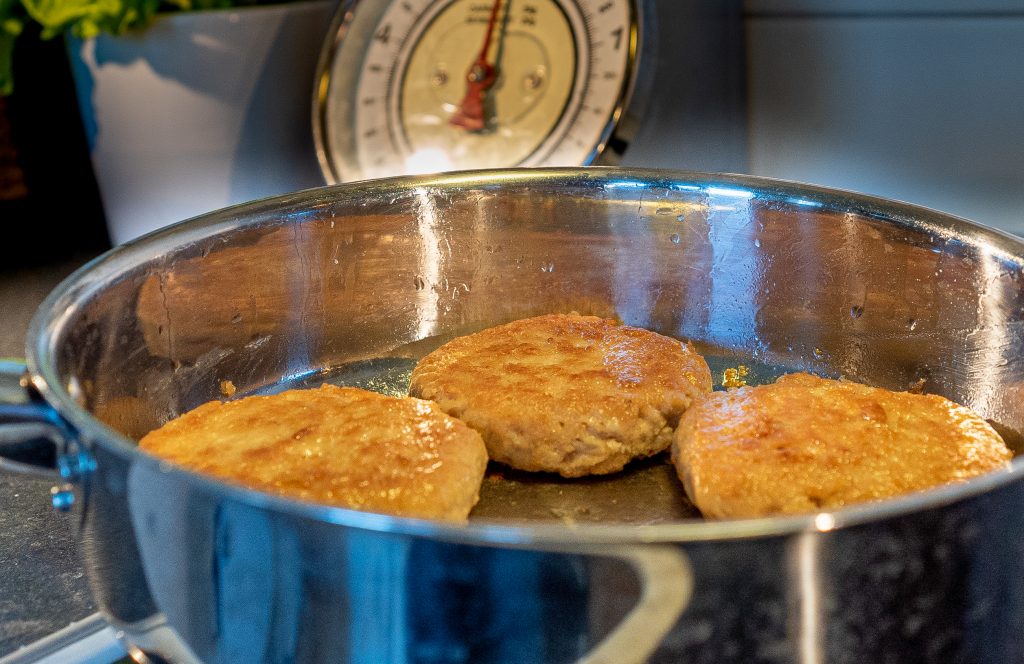 Produced in Sweden

Soy-free

Gluten-free

Excellent for deep frying

15g protein per 100g

100% Plant-based

Complete amino acid profile
FOR THE PLANET.
Havredal's burgers and patties are produced in Sweden with plant protein from fava beans, oats and other crops, using ingredients from Sweden and other northern European countries.  
The transformation of the food chain is crucial for achieving the climate goals. Today, there is a lack of production of many important crops in Sweden. Havredals wants to help increase the availability of Swedish crops by always choosing local ingredients whenever possible.    
Glad you're curious about our plant-based meat alternatives.
Nutritional values per 100 grams
PLANT-BASED CHICKEN BURGER
Energi – 638 kJ / 152 kcal
Fett -7,7 g
varav mättat fett – 0,8 g
Kolhydrat – 6,1 g
varav sockerarter – < 0,5 g
Protein – 15 g
Salt – 1.9 g

PLANT-BASED CHICKEN BUTTER
Water, pea protein, rapeseed oil, broad bean protein, natural flavourings, stabiliser (methylcellulose), potato starch, gluten-free oats, salt, vinegar, spices
PLANT-BASED CHICKEN BURGER
Weight per burger: 110 g
Number per box: 28 pcs
Net weight per box: 3,08 kg
Number of boxes per helpall: 126 pcs
GTIN: 7350114510104
Havredals art nr: 1030
PLANT-BASED CHICKEN BURGER
Roast: cook frozen for 12 minutes on medium heat. Turn every three minutes.
Optimum internal temperature is 70-75 °C.
Fry: 4 - 5 minutes at 170 °C from frozen. 1,5 - 2 minutes at 170 °C defrosted. About 1,5 minutes smashed.
Make your favourite recipe with our burger - it's super tasty and works just as well as chicken, but is much better for the climate!

Specific recipes coming soon!
GTIN: 7350114510104
Sea redals art nr: 1030
Produced in Sweden