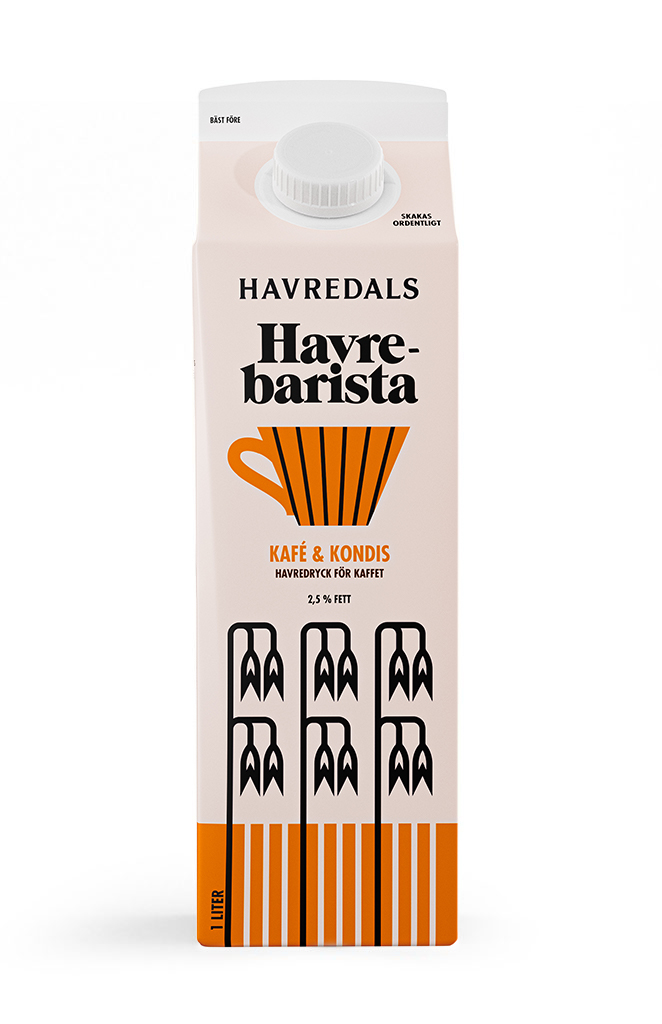 For the coffee.
Havredal's Barista is designed to become as common as the cinnamon bun in our diners and cafés. Based on our much loved original recipe with Swedish oats, but taking a step back in both sweetness and oat flavour to let the coffee take centre stage.
Froth it and create beautiful latte art, or enhance your morning coffee routine with a creamy and slightly nutty flavour.
Ingredients
Oat base (water, oats 11%), rapeseed oil, acidity regulator (potassium phosphate), calcium, stabilizer (E473), salt, vitamins (riboflavin, D, B12)
Nutritional values per 100 grams
| | |
| --- | --- |
| Energy (kJ) | 263 kJ |
| Energy (kcal) | 63 kcal |
| Fat | 2,5 g |
| Of which saturated fat | 0,2 g |
| Carbohydrates | 8,8 g |
| Of which sugars from oats | 4,3 g |
| Protein | 0,9 g |
| Salt | 0,10 g |
| Vitamin D | 1 µg (20% of RDI) |
| Riboflavin | 0.15 mg (11% of RDI) |
| vitamin B12 | 0.27 µg (11% of RDI) |
| Calcium | 120 mg (15% of RDI) |
Other
100% plant-based. Can be stored at room temperature before opening.
Designed for baristas
Havredal's Havredryck Kafé & Kondis is foamable and produces a silky, pliable microfoam that's great for creating latte art.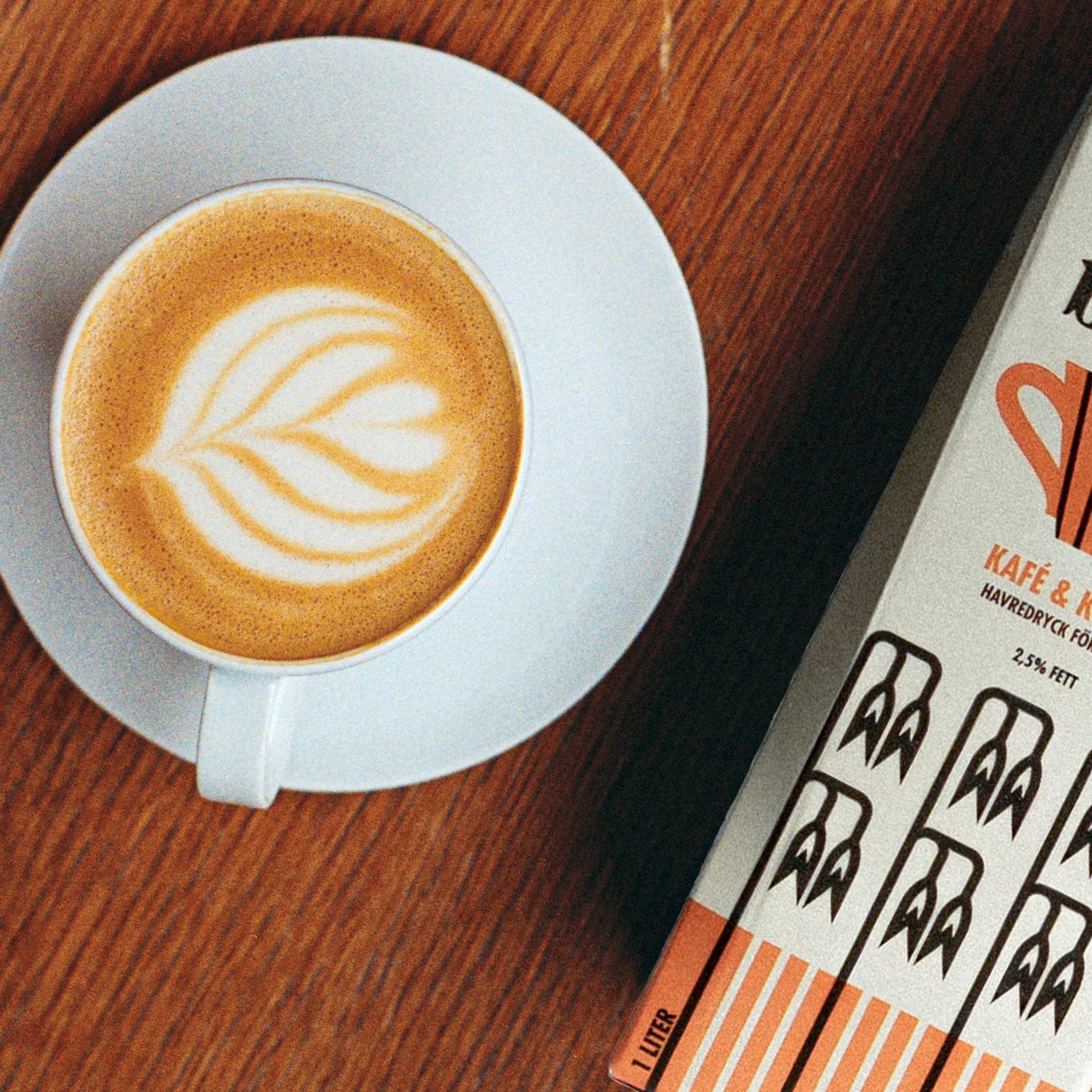 Basic perfection
Beautiful cappuccino art in all its glory, but it's in the simple splash of coffee that our Barista stands out. It blends with all kinds of coffee, from a dark roast to fruity light notes. With a higher fat content, the flavour becomes full-bodied, creamy and takes on a slightly nutty character - the flavour that has made Havredal's Barista a favourite with many coffee lovers.
Frequently asked questions
Is the product gluten-free?
Unfortunately, no. Oats as a crop are gluten-free, but in our products the oats are not "pure". This means that our oats can, for example, grow alongside wheat and therefore may contain low levels of gluten.
How does Oat Drink Barista differ from Oat Drink Original?
Havredryck Kafé & Kondis is specifically formulated to work extra well in coffee. We've used the same recipe, but toned down the sweetness and made sure it blends seamlessly with all types of coffee.
Both products are foamable, but Kafé & Kondis better adapted to provide a foam suitable for latte art.
Does the product contain any additives?
Yes, in Havredryck Kafé & Kondis we add potassium phosphate and a sucrose ester to make the drink mix better with coffee and get an even better foamability.
For those who want a product without these additives, we can recommend our Oat Drink Original, which also works well in coffee but may need to be stirred with a spoon. Original contains more oats and therefore has a slightly sweeter character.
Yes, all ingredients are vegan.
No, the oats are conventionally grown.
Yes, the product is fortified with vegan vitamins D3 and B12 and calcium according to the Food Administration's rules for good public health.
We cooperate with a producer in southern Sweden who is able to produce according to our unique process. Our ambition is to build our own plant in Uppsala when the time is right.
Where do the oats come from?
The oat drink contains 100% Swedish oats from farms around southern/central Sweden.
Why do you use rapeseed oil in your products?
The rapeseed oil helps to give the product its full-bodied feel, while contributing to the fat content of the nutritional composition. Rapeseed oil has a good nutty flavour and is low in saturated fat, including being a good source of omega 3.
What type of rapeseed oil do you use?
We use Swedish GMO-free hot-pressed rapeseed oil.
Does it contain added sugar?
No, but we use an enzymatic process that yields 4.3g of oat sugars (maltose) per 100ml.
Produced in Sweden