A Swedish oat drink
Havredals Original, made from oats from Swedish farms, has a rich flavour and balanced sweetness. By using around 40 percent more oats in the production process, it becomes naturally foamy and has a fullness that is perfect in porridge, with breakfast cereals or to enjoy just as it is.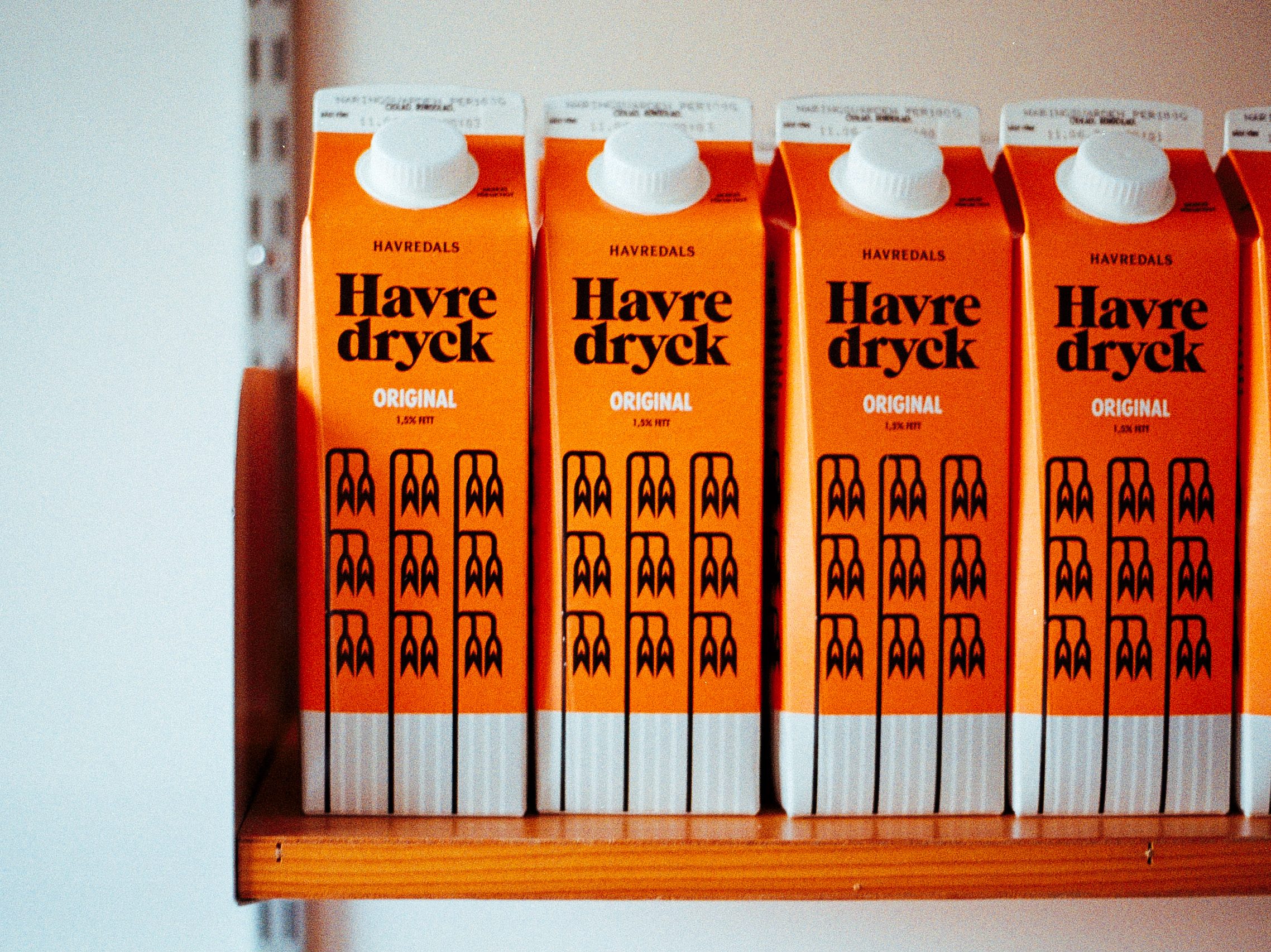 Ingredients
Oat base (water, oats 15.5%), rapeseed oil, calcium, salt, vitamins (riboflavin, D, B12).
Nutritional values per 100 grams
| | |
| --- | --- |
| Energy kj | 273 |
| Energy kcal | 65 |
| Fat | 1,5g |
| Of which saturated fat | 0,2g |
| Carbohydrates | 11g |
| Of which sugars from oats | 5,4g |
| Protein | 1,2g |
| Salt | 0,1g |
| Vitamin D | 1µg (20% of RDI) |
| Riboflavin | 0.15mg (11% of RDI) |
| vitamin B12 | 0.27µg (11% of RDI) |
| Calcium | 120mg (15% of RDI) |
In coffee
Instead of adding emulsifiers and stabilisers, we've added extra of the oats' beneficial fibres which also make it foamable for coffee.
In cooking and baking
Havredals is rich, high in fibre and works well as a substitute for milk in pancakes, buns or as a base for a béchamel sauce.
Frequently asked questions
Is the product gluten-free?
No, I'm afraid not. Oats as a crop are gluten-free, but in our products the oats are not "pure". This means that our oats, for example, can grow alongside wheat and therefore there may be low levels of gluten.
Yes, all ingredients are vegan.
No, the oats are conventionally grown.
Yes, the product is fortified with vegan vitamins D3 and B12 and calcium according to the Food Administration's rules for good public health.
We cooperate with a producer in southern Sweden who is able to produce according to our unique process. Our ambition is to build our own plant in Uppsala when the time is right.
Where do the oats come from?
The oat drink contains 100% Swedish oats from farms around southern/central Sweden.
Why do you use rapeseed oil in your products?
The rapeseed oil helps to give the product its full-bodied feel, while contributing to the fat content of the nutritional composition. Rapeseed oil has a good nutty flavour and is low in saturated fat, including being a good source of omega 3.
What type of rapeseed oil do you use?
We use Swedish GMO-free hot-pressed rapeseed oil.
Does it contain added sugar?
No, but we use an enzymatic process that yields 5.8g of oat sugars (maltose) per 100ml.
Yes, it's great for frothing cappuccino and blends well with both brewed coffee and tea. The product has been tested and developed with baristas to achieve a fine microfoam, without emulsifiers or stabilisers.
Produced in Sweden